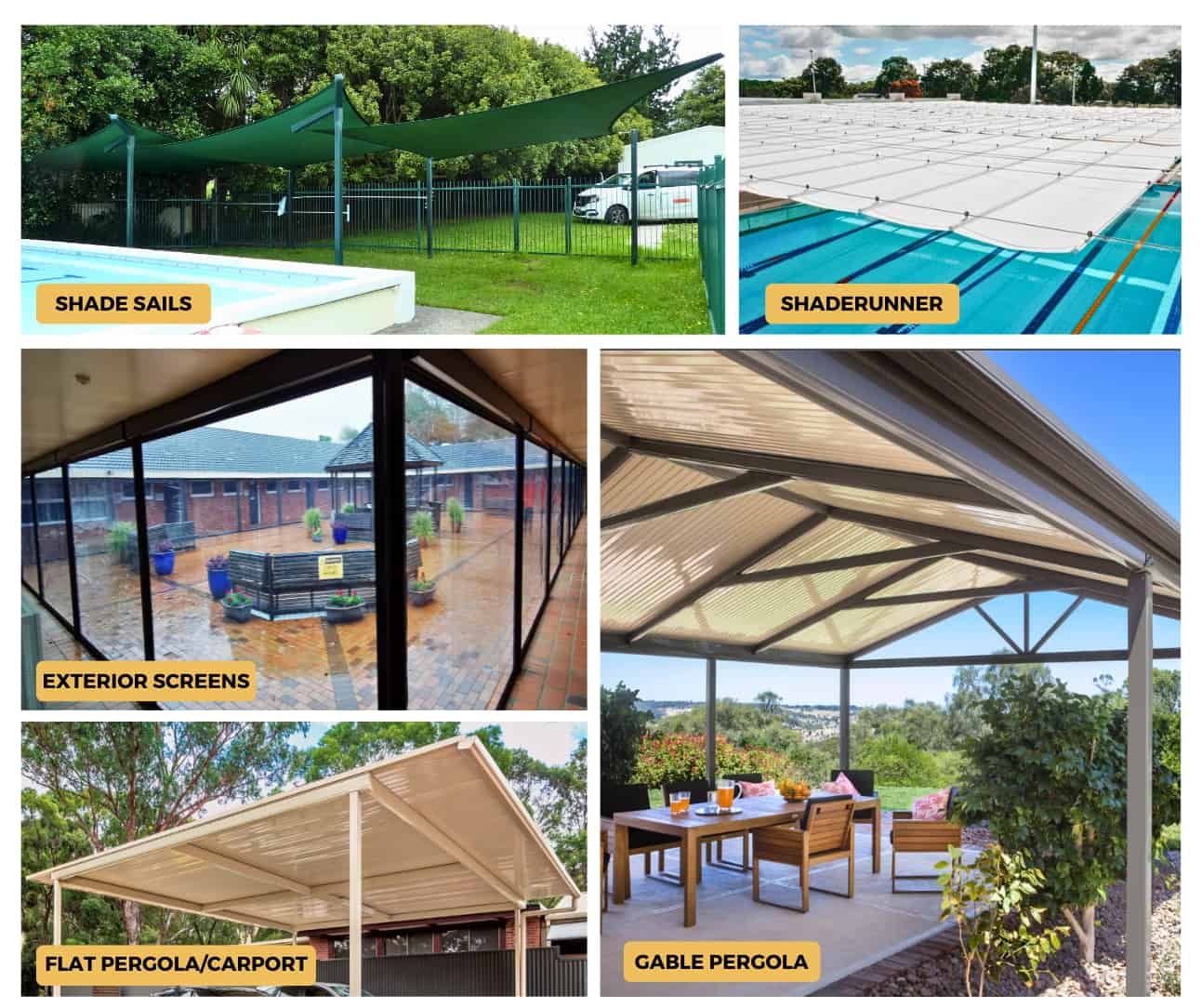 01 Jun

Commercial Shade Sails, Pergolas, PVC Outdoor Blinds for NZ Schools and Playgrounds

Winter may have arrived in New Zealand, but that doesn't mean we have to stay inside. Outdoor play and learning are essential for children's development. Here at SunGuard we can offer quality shade sails, pergolas, and PVC outdoor blinds — a perfect solution to create versatile and protected outdoor spaces for schools, early education centres, kindergartens, playgrounds, and many other.

Shade Sails: Embrace the Outdoors, Rain or Shine

Imagine a vibrant, covered outdoor space where children can explore, learn, and play, no matter the weather. Shade sails are the answer! These stylish and durable structures provide shelter from rain, wind, and harmful UV rays, allowing children to engage in outdoor activities even during the winter season. Whether it's a storytelling corner, an art area, or a nature-inspired play zone, shade sails can transform any open space into a protected haven, creating endless possibilities for learning and adventure.

Pergolas: A Perfect Blend of Aesthetics and Functionality

When it comes to creating a charming outdoor environment, pergolas are the epitome of elegance and functionality. These beautifully crafted structures not only provide shade and protection but also enhance the aesthetic appeal of your outdoor areas. With their versatility, pergolas can be customized to suit your unique needs. You can incorporate seating areas, gardening spaces, or even outdoor classrooms, allowing your little ones to experience the beauty of nature all year round.

PVC Outdoor Blinds: Unleash the Power of Flexibility

New Zealand's unpredictable weather is no longer a barrier to outdoor enjoyment, thanks to PVC outdoor blinds. These innovative blinds are designed to withstand the elements, providing a shield against wind, rain, and cold temperatures. PVC outdoor blinds offer a flexible solution, allowing you to transform open spaces into enclosed areas in an instant. Whether it's a play zone, a messy art area, or an outdoor dining space, PVC outdoor blinds ensure that your outdoor spaces are adaptable, comfortable, and functional, regardless of the weather conditions.

Safe, Durable, and Low-Maintenance Solutions

We understand that safety is of utmost importance, especially when it comes to children. SunGuard shade sails, pergolas, and PVC outdoor blinds are built to meet the highest safety standards, ensuring that your children are protected from harmful UV rays and adverse weather conditions. These structures are constructed with high-quality materials that can withstand New Zealand's ever-changing climate, guaranteeing durability and longevity.

Additionally, these outdoor solutions are designed to be low maintenance, allowing you to focus more on creating engaging learning experiences for your little ones. With minimal upkeep requirements, you can enjoy the benefits of these installations without worrying about constant repairs or maintenance.

Transform Your Outdoor Spaces Today!

Winter shouldn't dampen the spirit of outdoor learning and play. By incorporating SunGuard shade sails, pergolas, and PVC outdoor blinds into your schools, early education centres, and kindergartens, you can create versatile, protected, and inviting outdoor environments for your children to explore and thrive.

Unlock the potential of your outdoor spaces and provide your students with year-round opportunities to connect with nature, spark their creativity, and foster social interactions. Embrace the magic of shade sails, pergolas, and PVC outdoor blinds—the perfect trio to transform your outdoor spaces into vibrant hubs of learning and discovery.

Contact our team of experts today to discuss your outdoor needs and embark on a journey of transforming your educational environment into an inspiring outdoor wonderland. Let the adventures begin!