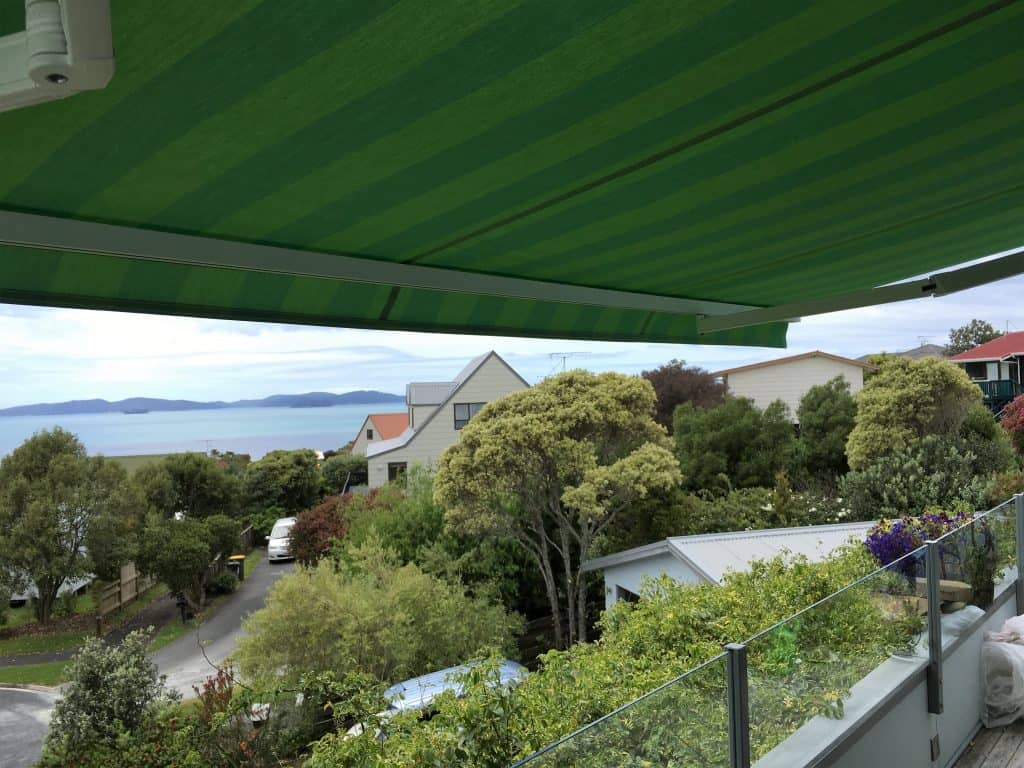 15 Nov

Things to consider before purchasing a retractable awning

Have you just completed your new deck and are thinking about adding an extra touch? Or you have a really sunny balcony and have noticed that some of the furnishings or your so carefully chosen carpet have started fading? You are now googling your options and have come across retractable awnings that are becoming so popular in Auckland and surroundings. Make sure you read the following tips to guarantee that you'll be satisfied with your purchase.
Where to install it?
Think carefully about the intended location of the awning. Is it going to be installed under an eave or on the wall face? Does your house have any features that might impede the correct installation of an awning? Is the house structurally strong enough to support the retractable awning? These are all things that you need to think about and talk with awnings supplier that you're getting a quote from. Make sure that the person who is measuring the awning is taking it all into consideration and talks you through the intended outcome. You need to be 100% sure that the awning will be securely fastened and won't present a safety hazard, but will enhance your outdoor experience.
Manual or automatic?
There are two standard operation options: manual and automatic. Manual awnings are operated with a crank and can be quite challenging to wind out or retract, especially if your retractable awning is quite big. Crank operated awning also require more attention, as they can't be supplied with a motion sensor, that would retract it automatically should high winds occur.
Another option is an automated or motorised awning. The days when an awning with a remote cost twice as much as a manual one are long gone. You can now get an automatic retractable awning for as little as 350-450 dollars in addition to the manual option cost.
That will save you the time and hassle of having to manually crank the awning. An automatic awning can also be fitted with a purpose built wind/sun sensors that will ensure that your experience would be second to none.
Motion sensor is activated by high wind and automatically retracts the awning when the wind gets above a preset threshold. That guarantees that you, your family and your awning will be safe at all times.
When considering an automated retractable awning bear in mind, that the awning has to be connected to the power network of your house and that it has to be done by a certified electrician. Make sure that your supplier gives you all necessary documents or instruction for the electrician to follow.
Plains or stripes?
The fabric selection is huge nowadays. If you are thinking about the fabric for your awning and are struggling with the best choice, here are a couple of tips:
plain fabrics are stained more easily than the striped ones
darker fabrics are usually more UV and heat resistant – talk to your awning supplier to see if they can show you the difference in fabrics to reflect that
Do not fall after no name fabric swatches – a high quality awning fabric will serve you for 5-10 years and won't fade or sag with time. Look for such renowned fabric manufacturers as Planosol or Docril – these European manufacturers have been in this business for decades and are on the forefront of the awnings fabrics technology.
Choose the colour wisely – spruce your outdoor area up with a bit of a contrast – don't go for the same colour as your house's walls or roof. Play with colour and it'll create an unforgettable experience.
Some of our customers ask if our acrylic fabrics are waterproof. You need to understand that an awning is primarily a sunshade product and is designed to create shade and protect your interior from heat. Awnings are not supposed to be out when it rains heavily as the fabric can get too wet and heavy and break the awning.
Installation
When considering an awning, please make sure that there's enough head space for you to safely walk under it.  There is a connection between the arms extension and the minimum required installation height. Have a look at the enclosed image to get a rough understanding of how high an awning needs to be installed to allow enough space for safe operation.
Another thing to consider – the angle or the pitch of the awning. All folding arm awnings require a minimum pitch of 12-15 degrees to allow safe discharge of the water in case it rains and to prevent the water from pooling on the fabric. With all that in mind, your awning supplier needs to clearly explain you what the pitch requirement is and how you awning will look like when fully extended. I bet you don't want your view to be fully obstructed!
Components quality
The market is huge nowadays with all sorts of offers. We highly recommend to avoid the cheapest imported ready-made awnings that are sometimes marketed as a reasonable alternative to custom made folding arm awnings. We do believe that it's always better to pay a little bit more and to sleep good, knowing that the awning you've got won't fall on anyone's head or just break down within months from its installation.
Talk to the awning shop staff and get them to explain you what components they use, how thick the metal is and how reliable the arms are. These are all the components that your awning heavily relies on and the sturdier they are – the longer your awning will serve.
Lastly, reputable suppliers can even powder coat the hardware to exactly match your favourite colour.
Custom made or ready made?
That's quite simple – we highly recommend to avoid buying ready made products as you can never be sure that they will provide you with acceptable quality and experience during operation. Custom made awnings are carefully designed using best European techniques and latest technologies allowing to seamlessly integrate the awning into your house and outdoor area.
More importantly, properly manufactured custom made folding arm awnings are much safer and easier maintained. We get quite a lot of requests to fix or replace a faulty part of an awning that'd been bought from a one-day shop that's already closed. Ordering an awning from a reliable NZ based supplier will ensure that in case your awning breaks down, you can get a timely and efficient service.
…and finally ordering!
Having read all of the above you might think that ordering a folding arm awning in Auckland is quite a difficult task. Our answer is – yes, it can be if you decide to embark on this journey yourself. Or you can save from all the hassle and talk to our highly professional team that will talk about all the important stuff and will show and explain how to get the most out of your future awning.
In conclusion, here are the top things that you need to consider when buying a retractable awning?
selection of fabrics – always choose the well-known and established manufacturers
high quality hardware – your safety relies on it
manual or automatic – depending on your budget and preferences
installation location – talk to a professional to get the best advice
size – width and projection, pitch – discuss before ordering to make sure that the view won't be obstructed and enough head space will be allowed.
If you'd like to get a professional consultation, do not hesitate to get in touch with our friendly team by filling out the enquiry form or simply giving us a call on 027 200 70 34.